U organizaciji Arhiva Federacije BiH u Sarajevu održana izložba Nacionalnog arhiva Džordžije
100 GODINA PRVE DEMOKRATSKE REPUBLIKE GRUZIJE
Autor: B.net
Objavljeno: 04. Oct 2018. 17:10:58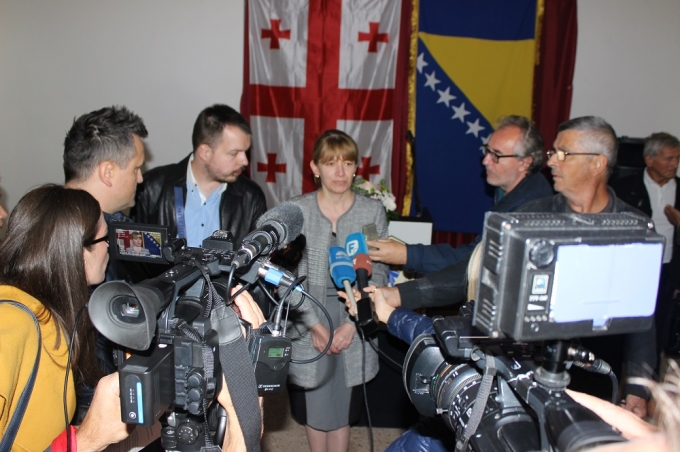 Teona Iashvili, generalna direktorica Nacionalnog arhiva Džordžije
Address by Ademir Jerković, director of the FBiH Archive at the exhibition of the National Archives of Georgia

I have the pleasure to address you at the exhibition of our friends from the democratic Georgia. Based on the Memorandum on Cooperation, they have prepared, for you, dear citizens of Bosnia and Herzegovina, this exhibition titled 'The First Democratic Republic of Georgia', on the occasion of 100th anniversary of the establishment of their state. It was created after the October Revolution and continued to exist for three years, until the Red Army quashed its independence. For fifty years Georgia had been a part of the Soviet Union, until the fall of communism when it gained its freedom and today it is as an independent Republic.
This state, dear to us, that gave us an opportunity to present on its territory an exhibition about the Srebrenica genocide; it currently faces, similar to BiH, separatist tendencies of the pro-Russian forces in South Ossetia and Abkhazia. I will just briefly note that Bosna and Herzegovina stands on the principle opposing foreign interference into Georgia's internal relations and supports its territorial integrity of an independent state and its sovereignty and rejects any form of separatism. In that sense our two countries stand united in defence of freedom and independence, and on the path towards common European values, which we intend to protect through military organisation within NATO, which is something we wholeheartedly strive for.
Povodom sto godina od osnivanja Džordžije u Sarajevu je danas u organizaciji Arhiva Federacije Bosne i Hercegovine, a na temelju potpisanog Memoranduma o saradnji, otvorena izložba Nacionalnog arhiva Džordžije "Prva demokratska republika Gruzija".
O prvoj demokratskoj Gruziji, koja je osnovana nakon Oktobarske revolucije 1918. godine i koja je trajala sve do 1921. kada je pala pod sovjetsku vlast, govorili su direktor Arhiva Federacije BiH prof. dr. Adamir Jerković i generalna direktorica Nacionalnog arhiva Džordžije gospođa Teona Jašvili. Ona je kazala da izložba pokriva sve važne detalje iz života Gruzije prije sto godina, kao npr. izbore za Ustavotvornu skupštinu, obnavljanje autokefalnosti džordžijske crkve, odnosima između crkve i države, ali glavni dio izložbe govori o okupaciji Džordžije od strane Crvene armije. Teona Iashvili se zahvalila Arhivu Federacije BiH koji je prije dvije godine u Tbilisiju predstavio izložbu "Srebrenički inferno," koja govori o srpskom genocidu nad 8372. Bošnjaka.
Pozdravljajući Džordžijance prof. dr. Adamir Jerković je rekao da nažalost i Džordžija i Bosna i Hercegovina imaju istu sudbinu, jer su obje zemlje suočene sa separatističkim tenedencijama. Istakao je problem samoproklamovanih podrčja Abhazije i Južne Osetije, u kojima su proruski elementi proglasili tzv. nezavinost. Dr. Jerković je dao podršku suverenoj, cjelovitoj i nezavinoj Republici Džordžiji i rekao da je Bosna i Hercegovina protiv bilo kakvog uplitanja sa strane u unutrašnje odnose te zemlje i da je put obje zemlje u vojno-političkom NATO savezu.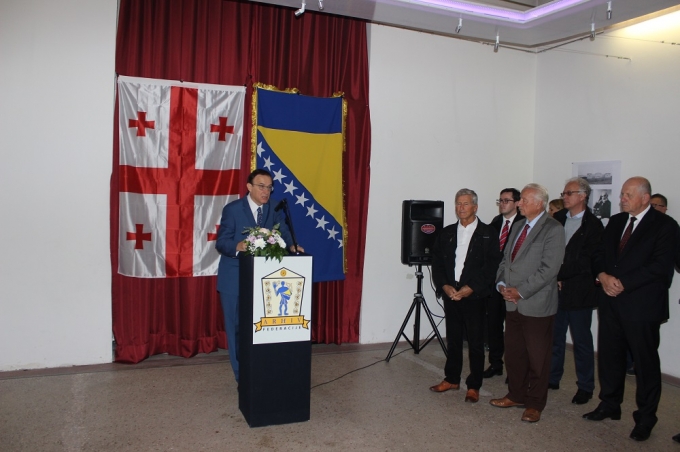 Prof. dr. Adamir Jerković, direktor Arhiva Federacije Bosne i Hercegovine